Introduction
I'm a Potterhead, my Patronus is a stag, and even my author bio says A Slytherin in Gryffindor Clothing (I'm not even kidding). Speaking of social media, my Instagram bio reads: Those who don't believe in magic will never find it. Yes, love knows no boundaries. But I am not here to tell you that. The Harry Potter reunion is HAPPENING (Yes, it is a big deal). So, when my peers asked me to write this blog, I couldn't hold myself but write it. 
However, the problem is that whenever you think of a person who is an epitome of a great leader or manager from the Harry Potter series, your first answer will be Albus Dumbledore, but that's not true.  He-Who-Must-Not-Be-Named can also give you some serious management lessons. So, without further ado, let's take a look at management lessons you can learn from each Harry Potter Character. 
Management Lessons From Harry Potter Characters
Before I start listing out the management lessons from Harry Potter characters, let me take an oath –  I Solemnly Swear That I Am Up To No Good. Just kidding. Though Harry Potter is my favorite, I promise I  won't be partial towards any character. So, without further ado, let's take a look: 
Harry Potter Character #1:Hermione Granger – When in doubt, go by the books 
Let us accept it: Hermione was the brightest witch of her age. Hermione Granger, a Muggle-born, came to Harry's and Ron's rescue when they had a nearly-death experience in Harry Potter, and the Philosopher's Stone had not been in the picture. And that is all because of the text she read in a book about Nicholas Flamel. Quite fittingly, Hermione's transition journey from a Muggle( someone not born in a magical family) to the wizarding world was smooth, all thanks to her knowledge and sharp wit. 
From Hermione, you learn how to use the extra time for refining and upskilling. And this lesson is not just limited to the magical world. Whenever you get some free time during the day, start learning about new-age management skills. The best way to do it is by learning about the Executive PG Program in Management.
An interesting fact about the Harry Potter Character, Hermione: Hermione Granger, a muggle-born Harry Potter character, was known for her brilliant academic mind and wisdom.
Harry Potter Character #2:Albus Dumbledore – Be the kind of leader you would want to follow 
I wish someone could transfigure me into Albus Dumbledore. An inspiration for many, Dumbledore has demonstrated his leadership skills several times during the Harry Potter series. When Hagrid went to Azkaban, Dumbledore ensured that his name was cleared. And his primary role in the Order of the Phoenix, when he took full responsibility for the Dumbledore Army, is something that deserves a separate blog in itself. He even hired Remus Lupin to teach at Hogwarts despite knowing he was a Werewolf. 
A management skill that we can learn from Albus Dumbledore is to always be humble. As a leader, you should never get your position to your head, and  be condescending or belittling to others. The absence of arrogance is a treat worth taking from Dumbledor. 
An interesting fact about the Harry Potter Character, Albus Dumbledore: At one point in time, during the series, Dumbledore possessed all three Deathly Hallows – Elder Wand, Resurrection Stone, and Invisibility Cloak.
Harry Potter Character #3:Lord Voldemort/Tom Riddle – Learn more about your competition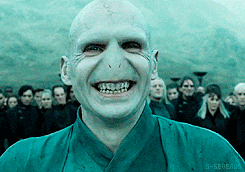 For sure, you must be thinking why on this earth would I want to learn something from Voldemort, but let's accept it, creating your Horcruxes is easier said than done. Voldemort knows his enemies too well, everyone from death eaters to his most sworn enemy, Harry Potter. He captured the Death Eaters, was feared by all, made the Dementors his slave, and knew every step of his enemies. Yet, he never underestimated their powers. 
Like Voldemort, you must know about your competitors and innovate your way to success. 
An interesting fact about the Harry Potter Character, Lord Voldemort/Tom Riddle: Tom Riddle applied for the 'Defense Against the Dark Arts' positions twice — once when Armando Dippet was Hogwarts headmaster and when Albus Dumbledore took over.
Harry Potter Character #4:Rubeus Hagrid – Choose Competence over Pedigree 
Rubeus Hagrid was my introduction to the Harry Potter movie. He might intimidate you at first sight, but there is more to Hagrid than meets the eye. Apart from being Dumbledore's closest confidante, he was the go-to person for Harry, Ron, and Hermione. Hagrid lacked credentials to qualify for teaching 'Care of Magical Creatures, but he had a deep understanding of creatures.
Hagrid can give some lessons to the Human Resource team on inclusion. A person should not get deceived by appearances and welcome every candidate with open arms.
An interesting fact about the Harry Potter Character, Rubeus Hagrid: Hagrid used to host a Support Harry Potter party in his hut when Voldemort took over the Ministry of Magic. Indeed, Hagrid's loyalty knows no bounds.
Harry Potter Character #5:Severus Snape – Need to be Persistent, at all times. Always 
I won't lie, but my world shattered when Snape said 'Always.' The seven-letter world started meaning differently after that beautiful scene where Snape's Patronus took the shape of the one belonging to his long-lost love, Lily Potter. Apart from his love and sacrifices, Snape was known for being persistent. He mastered the art of creating Potions and was the only one who could brew Wolfsbane potion, a complex potion that Remus desperately needed. 
Like Snape, you need to be precise and accurate when it comes to your communication. When sending a company update, recapping meetings, or relaying instructions, you must strive for clarity, thoroughness, and accuracy in your communication. These are the best ways to avoid miscommunication and keep your team on the same page.
An interesting fact about the Harry Potter Character, Severus Snape: Snape introduced Harry to his most-used spell -'Expelliarmus.' 
Harry Potter Character #6:Minerva McGonagall – Just be there for your team 
'Well, I still say you were lucky, but not many first-years could have taken on a full-grown mountain troll. You each win Gryffindor five points.'-Professor McGonagall, from Harry Potter and the Philosopher's Stone book.
There is nobody sarcastic, severe, and sometimes sentimental like McGonagall. Her staunch sense of justice worked both ways – punishment for someone who misbehaves and reorganization for achievement. She genuinely loved her students and ensured that they were made of grit and integrity but respected each other's differences. 
Follow the footsteps of McGonagall if you want to be a genuine manager. Guide your team, help them the way they need, and make them highly productive, engaged, and inspired.
An interesting fact about the Harry Potter Character, Minerva McGonagall: Minerva McGonagall's first job out of Hogwarts was at the Department of Magical Law Enforcement, Ministry of Magic.
Harry Potter Character #7:Luna Lovegood – Find a silver lining in every situation
They say, always keep the best for the last. And I am doing just that by mentioning one true hero of the series – Luna Lovegood, a true Ravenclaw and an embodiment of mindfulness and intelligence. Throughout the series, Luna is faced with an awful predicament, but she used to find a way to put her spin on it. And this reminds me of her quote when she thought Nargles stole her shoes: 
"My mum always said things we lose have a way of coming back to us in the end, if not always in the way we expect." 
Like Luna, you must always find a silver lining in every situation. There are many unique business opportunities out there, and if you can make the most of every prospective opportunity, it can do wonders for your business. 
An interesting fact about the Harry Potter Character, Luna Lovegood: In Harry Potter & The Deathly Hallows, while Harry, Hermione, and Ron were hunting for Horcruxes, Luna tried to steal Godric Gryffindor's sword out of Snape's office.
Non-Harry Potter Character #8:You can also become like them
Apply these management lessons today and see what magic might happen. You also can advance your ability to manage people, products, and processes with agility by enrolling in the Executive PG Program in Management. The program offers industry-relevant specialization in Marketing Management, Data Science and Analytics, Operation Management, Finance, and Human Resources that imparts skills through project-driven learning and mentorship.
This Executive PG program is not like any usual distance learning program. You will also get dedicated career support from Great Learning. Click here to get a detailed understanding of the program.
As all good things must come to an end, so does this article. If you think I have missed any character, then do mention the same by commenting below. Do not forget to click on the 'Clap' button if you too are a loyal Harry Potter fan.