Get the taste of the holiday season with this easy meal prep gingerbread overnight oats recipe. Simple and healthy ingredients mixed together in a jar and ready for breakfast the next morning!
Even though the majority of my life I have lived through never-ending winters in the north, it wasn't until last winter that I fully embraced the season. I loved cozying up by the fire in big sweaters, taking the dogs to frolic in the snow and creating seasonal recipes with ingredients that are just made for winter… like gingerbread!These overnight oats are great for a comforting breakfast or snack that can be prepped in advance.
Here's What You Need
Rolled oats

– make sure you grab gluten-free oats if needed.

Chia seeds

– adds protein and fiber to this breakfast but also helps the mixture thicken.

Blackstrap molasses

– key for making that gingerbread flavor we know and love! If you don't have molasses on hand, you can also use maple syrup or honey but the taste will be a little different. 

Vanilla extract

– a flavor enhancer.

Maple Syrup

– adds creaminess and sweetness to this breakfast. 

Unsweetened vanilla almond milk

– any dairy-free milk works but I like using unsweetened vanilla almond milk. 

Spices

– a combination of ground ginger, cinnamon, ground cloves is what makes these overnight oats "gingerbread" flavored!
How to Make Gingerbread Overnight Oats
STEP 1: Mix together the dry ingredients in a glass jar or container. Shake or stir to combine.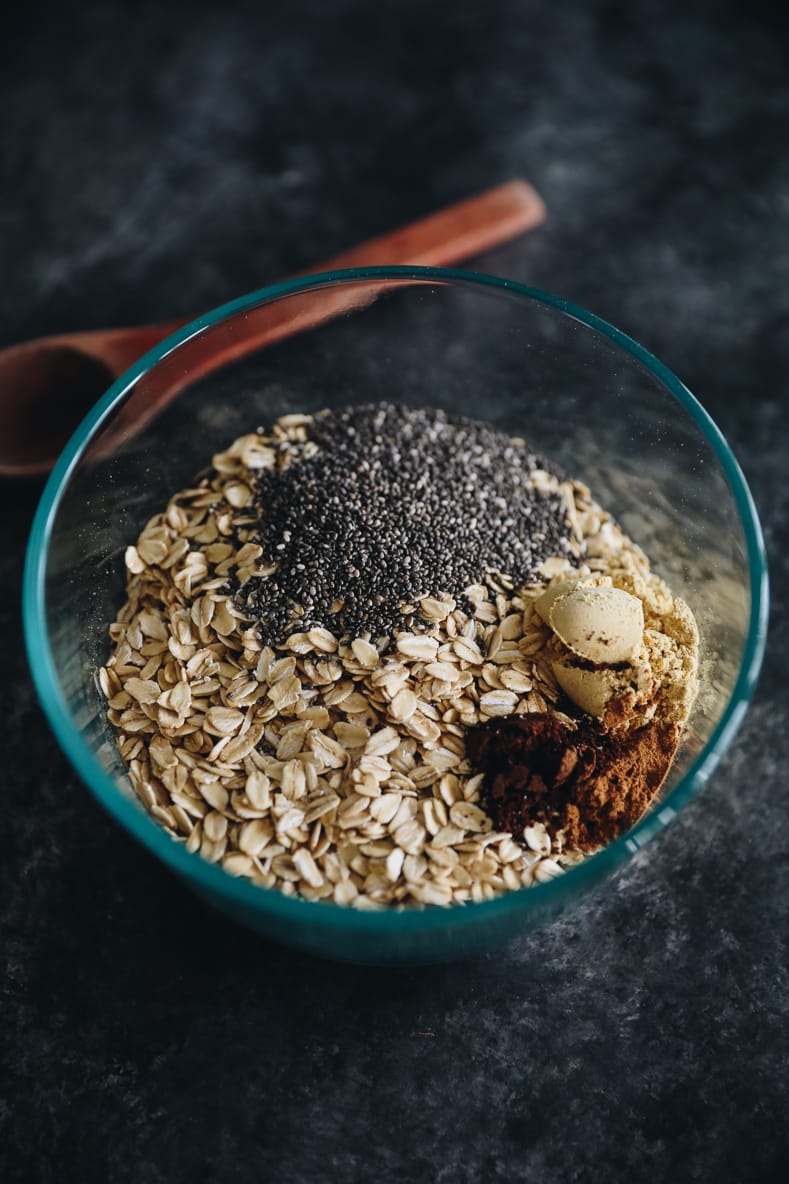 STEP 2: Add the molasses, vanilla extract, banana and almond milk. Give the mixture another good shake to mix or stir.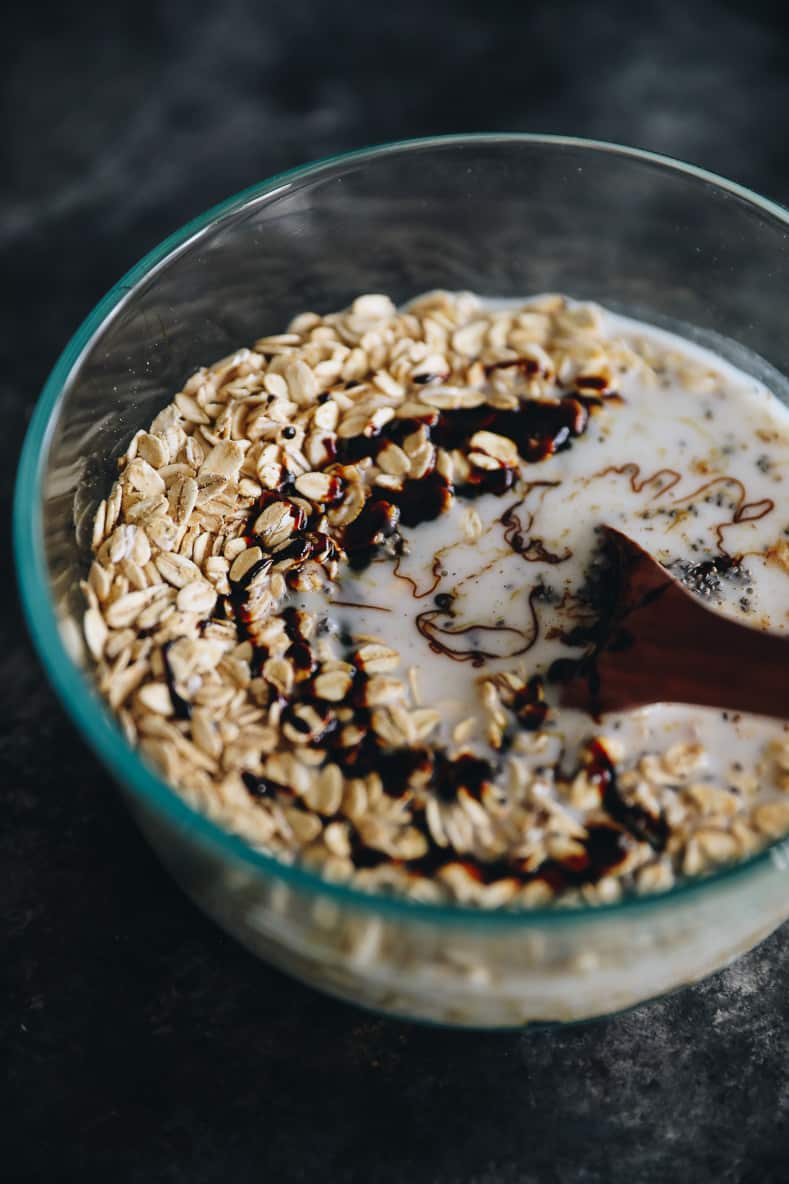 STEP 3: Place in the refrigerator overnight or for at least 6 hours. Add more milk to thin out if needed and top with a preferred mix-ins.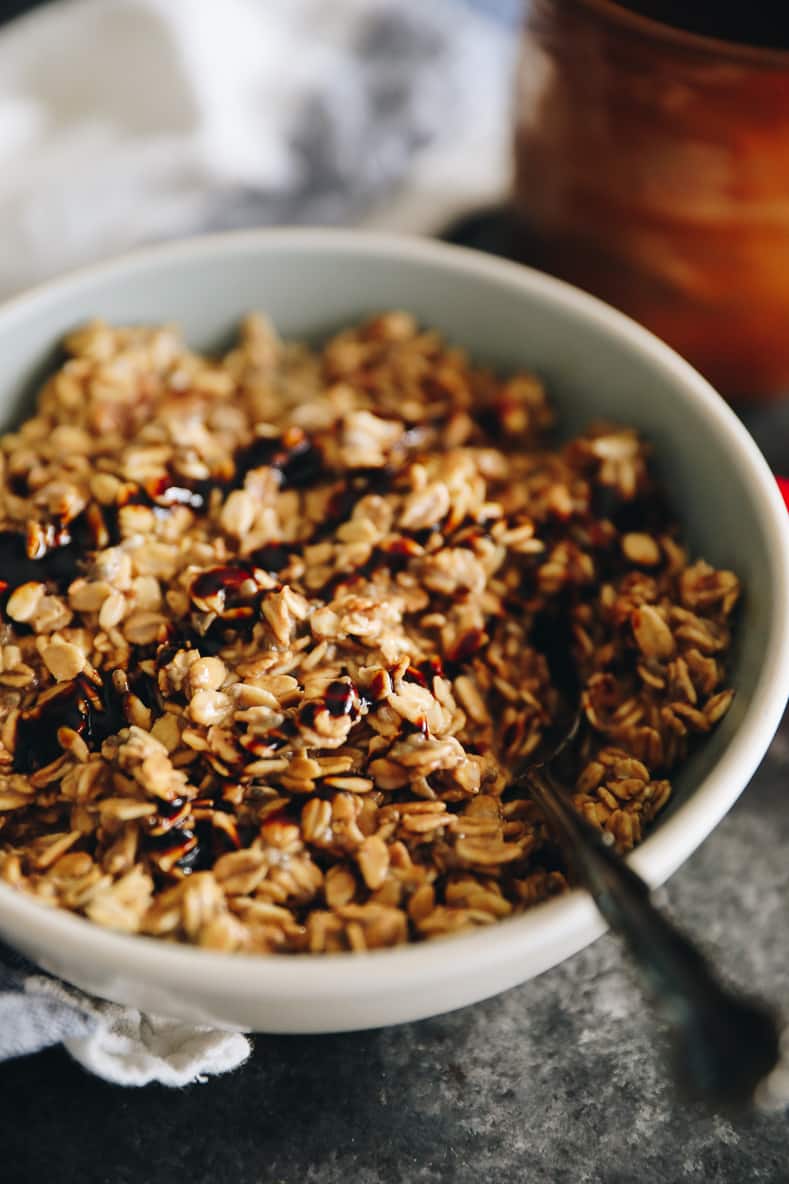 How to Serve Overnight Oats
You can enjoy this breakfast as is, right out of the refrigerator! If you don't want your oats to be as thick, you can add a splash of almond milk in the morning. I like to top these oats with a dollop of peanut butter but you could also add some chopped nuts, more sliced bananas or even berries. Choose your own adventure!
How to Meal Prep a Larger Batch
If you're like me, quick and easy breakfasts are the name of the game lately. I like to mix all of the dry ingredients in glass jars so they're ready for the wet ingredients. The night before you want to indulge, simply add the wet ingredients and refrigerate overnight!
Alternatively you can easily double or triple the recipe so you have a few days worth of breakfasts in the fridge already. I wouldn't recommend prepping too far in advance as anything over 3 days will make the gingerbread overnight oats pretty mushy but totally your preference!